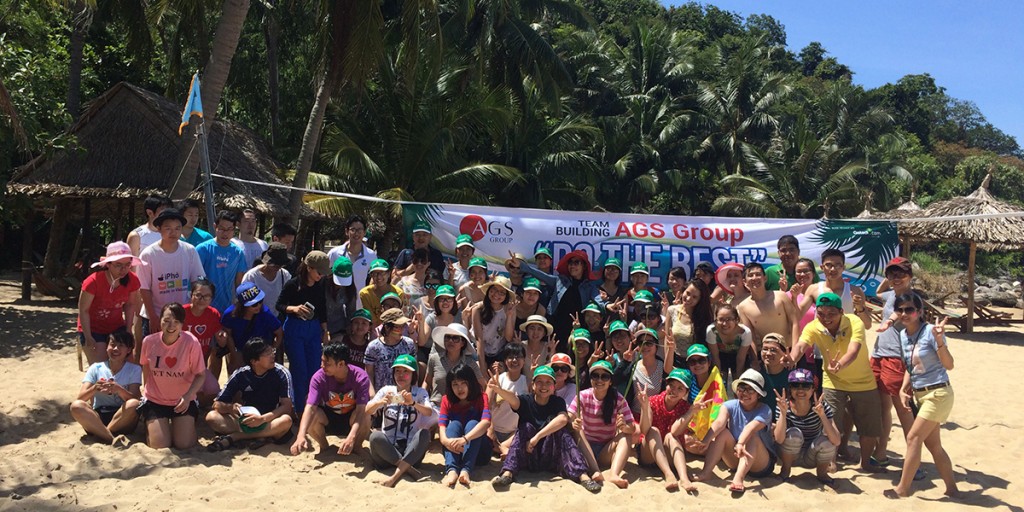 AGS recruitment and policy
AGS welcome all proavtive and potential staff
For those who have not had any experiences, we will have suitable method to evaluate your ability accurately. Even for those who have resigned from AGS, if you are qualified enough you are always welcomed again without any discrimination. Except those who are potential but dishonest and unfaithful to the company. Those who only care about their own advantages and disturb company or customer business are not highly respected. People of those characteristics are not welcomed again after leaving the company. However, as there are no discriminations no matter what the resigntion reason is,we encourage you to take challenge and try your best if you would like to work for AGS again. It is never too late to learn anything, so we always welcome candidates who are willing to take challenges, and have a strong motivation to move forward. Even though you have resigned from the company, if you would like to develop yourself more in work, you can apply again since our aim is to develop the company together with the staff.
After joining AGS, we will focus on staff development
Together with the staff, we aim to develop the company with the customers. We extremenly appreciate potential staff. We also aim at growing up, developing and getting succes like the way the Vietnamese people and the whole Vietnam did. On top of that, we will ensure the growth, development and success of the customers by always following up their business. From now on, we will continue to focus on education and investment for future development. We appreciate the spirit to take challenges and grow up.
Job requirements
Working location

Working time

Mon – Fri (8:00 ~ 17:00)

Holidays

Saturday, Sunday, public holidays and other days regulated by the company

Salary

Regulated by the company

Bonus

Quarter – Tet bonus (depend on employee performance)

Provided things

PC, stationery …
Social welfare
Social insurance
Free parking fee
Annual trip for all emplyees
Year-end party
In-house training policy
Recruitment process
Step 1: Applying
Send your application by email to the recruitment website address Email address for recruitment:
agshcmc.cv@ags-vn.com
 (HCM, Da Nang) or 
agshn.cv@ags-vn.com
 (Ha Noi).
Some important points while applying:
You need to pay attention to the following points:
Email title: Job title [Working location][Your name] Ex: CPA / Vietnamese / ACC [HCMC] Ms.Hanako Yamada
Full text: Applicant's name and contact information
Enclose: CV and resume
We will contact the suitable candidates. (within 1 week since the date we receive your email)
Step 2: Interview
If you pass the CV screeing round, you will attend the interview at our company (it can be 1 or 2 rounds of interview). The interviewer can be the CEO of the company or the leader of the team you have applied. When you come to the company, you have to do a test to check your ability and your language skill (It can be in Japanese or English)
Step 3: Result announcement
The interview result will be carefully considered and the selected candidates need to check the Offer letter sent by our company carefully (The result will be announced within 1 week since your test and interview round)
Step 4: Entering company
After the candidates have already carefully checked the Offer letter, we will start the joining procedure.After your have passed the interview round, you will start working within 1 week to 1 month.
FAQ
Do you have any regulations about uniform or hair style?

We do not have any particular regulations relating to uniform or hair style. But as sometimes we have to meet the customers so staff are required to dress formally and professionally

How long does it take for recuitment process?

It depends on the job and the position you apply, but within 1 week to 1 month from application, you can start working for the company

Does the company return the application form to the applicants?

Usually we do not return the application form to the candidates. The application form will be carefully saved and deleted if necessary

I have applied to this company before, so can I still submit my application form again?

Yes you can submit your application form again. In that case, please follow the application submitting steps

Are Japanese and English abilities required ?

As most of our customers are from Japan so we use Japanese as the main communication language. Apart from that, we also use English to make contract, or reply email to the customers so it is necessary that you have a basic level of English. There are some Japanese staff who can speak English quite well so if you would like to learn Japanese, we can offer you Japanese lessons with them.

Where can I ask questions relating to recruitment?

Please feel free to contact us at agshcmc.cv@ags-vn.com or agshn.cv@ags-vn.com.
In case the applicant does not write the CV himself/herself or the information in the CV are inaacurate, he/she will be disqualified to apply, or the contract will be cancelled even having been recruited. Therefore, we hope that the applicants will give the true information about themselves while applying.